The third edition of our customer event will again be held under the motto "Nothing is Impossible" or in German "Geht nicht, gibt's nicht". Skilja and our partner ScaleHub are organizing this joint event on June 21st right in the center of Berlin.
We would be happy to welcome you there for a day of interesting customer presentations showing real applications and the measurable benefit of our KI-based software solutions as well as insightful presentations of our technology, our vision and our roadmap.
The event ist in German only  (sorry to our English speaking friends ;-(  ). Please contact us via e-Mail to participate or register directly through the link provided below. We are looking forward to seeing you for a really well spent day in Berlin.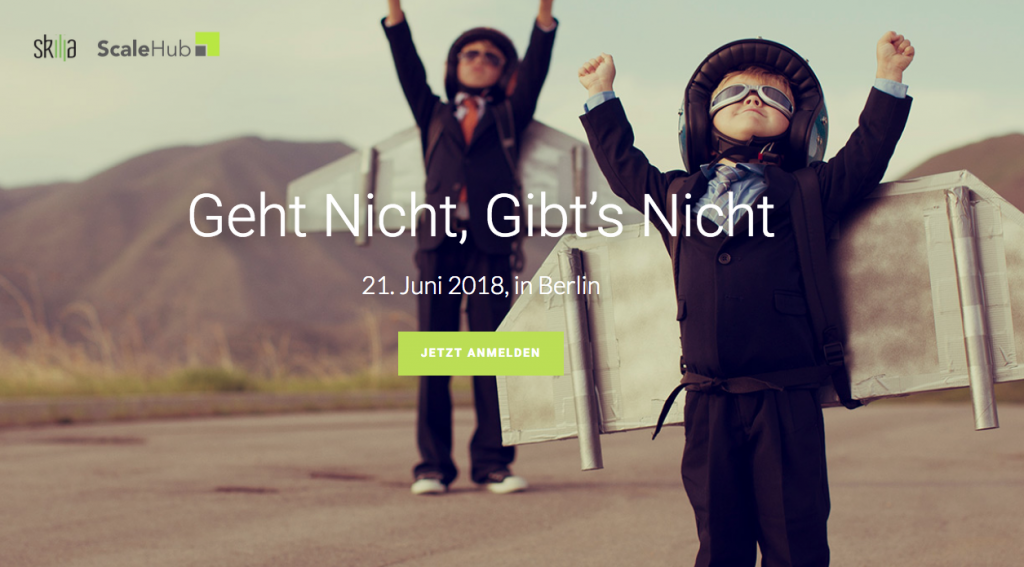 Please see the original invitation in German below:
Automatisierung hoch zwei. Sind Sie bereit?
Unsere Veranstaltungsreihe "Geht nicht, gibt's nicht" geht in die zweite Runde. Hierzu möchten wir Sie gerne, wie bereits telefonisch besprochen, gemeinsam mit unserem Partner ScaleHub einladen.

Sind Sie bereit für Automatisierung hoch zwei? Welche Potenziale erschließt die Kombination von künstlicher und menschlicher Intelligenz? Welche Hürden müssen wir nehmen? Wie werden wir heute wirklich agil? Diese und viele andere Fragen diskutieren wir am 21. Juni 2018 in Berlin.

Was Sie bei unserer Veranstaltung erwartet:

Interessante Vorträge zur nächsten Lösungs-Generation, menschlicher und künstlicher Intelligenz,
Einblicke in die Erfahrungen unserer Kunden aus erster Hand,
Die Möglichkeit, unsere Lösungen live und hautnah zu erleben, sowie
Eine Abendveranstaltung zum Erfahrungsaustausch in entspannter Atmosphäre direkt an der Spree.

In diesem Jahr findet unsere Veranstaltung direkt gegenüber des Berliner Hauptbahnhofes statt. Detaillierte Informationen inkl. Agenda finden Sie 

hier

.

Seien Sie dabei und erfahren Sie mehr. Melden Sie sich gleich 

online 

an.